6 NOV 2021
Facts, not fear.
TRENDING TOPICS
Ahmaud Arbery case • October jobs report • Europe's Covid resurgence • Blue Origin lawsuit • Havana Syndrome response
FEATURED UNDER-REPORTED STORIES
Hollywood shunning sex • MLB's gay players • Eliminating cat allergies
You are on the free plan of The Factual


Help a friend be better informed. Get a free month of Premium.


TRENDING TOPICS, MOST CREDIBLE STORIES
TODAY'S POLL
Does the racial makeup of the jury matter in the Ahmaud Arbery case?
All votes are anonymous. This poll closes at: 9:00 PDT
Should the US have signed the pledge to phase out coal power?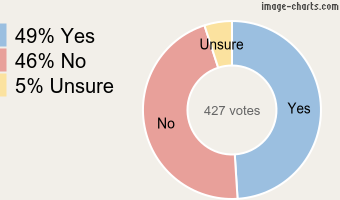 Context: Over 40 countries, not including the U.S., pledge to end use of coal power at climate summit.
HIGHLIGHTED COMMENTS
" Yes - Fossil fuels account for a significant proportion of the greenhouse gases causing climate change. Energy production is a necessity, and whatever we can do to minimize its impact on the environment is a move in the right direction. I understand that there are a lot of jobs tied up in the mining and supply of coal, but the writing is on the wall that this method of energy production is unsustainable."
" No - Eventually yes, but until supply can be brought up to speed with cleaner sources of energy, the answer is no. There is alread..."
" Unsure - Like all regulations, one must be careful. Through regulation we should phase out certain emissions, not the pres..."
#2 in U.S. News • 19 articles
What does the October jobs report reveal about the economic recovery?




After shedding more than 20 million jobs in March and April of 2020, the U.S. economy has regained all but 4 million of them. The number of job opening...


Full summaries, images, and headlines for subscribers only.
One payment. Once a year. $25

Upgrade Now


#1 in World News • 24 articles
Why is Covid-19 surging in Europe?




Last week, with nearly 1.8 million new cases and 24,000 new deaths reported, the WHO's European and central Asia region saw a 6% increase in infections and a 12% increase in fatalities, co...


Full summaries, images, and headlines for subscribers only.
Free your time. Get rid of multiple news feeds.

Upgrade Now


#1 in Business News • 12 articles
Why did Blue Origin lose its lawsuit against NASA?




Mr. Jeff Bezos' space company, Blue Origin, sued NASA in August, contending that the agency unfairly awarded to SpaceX a $2.9 billion contract in April to co...


Full summaries, images, and headlines for subscribers only.
Just the facts. Just about $2/mth.

Upgrade Now


#1 in Science News • 9 articles
How is the United States responding to the Havana Syndrome?




More than 200 diplomats, intelligence officers and other government personnel around the world have been affected by the mystery illness. Those affected have complained...


Full summaries, images, and headlines for subscribers only.
Objective news + Quick summaries + Multiple perspectives = $25/yr

Upgrade Now


SPREAD FACTS, NOT FEAR


Refer a friend. They get 10% off. You get free stuff.
You can also copy & paste your referral link:
https://thefactual.com/?refid=52041086
UPDATES & BREAKING NEWS

HIGHLY CREDIBLE, UNDER-REPORTED STORIES

EDITOR'S PICKS